Joined

Dec 11, 2018
Messages

1,222
Trophies

0
To get the enzyme to work better on PET, the researchers looked up the cutinase structure and ran chemical simulations to figure out where PET would interact with the enzyme. They found it fit into a groove on the enzyme's surface that included the location where the PET would be cut. To improve PET's fit into this groove, the researchers created a large panel of mutant versions of the enzyme that, in different combinations, changed every single amino acid on the inside of the groove. While most of these nearly eliminated the enzyme's activity, a few actually improved it and were used for further studies.

The second problem was the issue of the enzyme's ability to tolerate high temperatures. Here, studies with related enzymes provided a hint: many were stabilized by interacting with a metal ion that holds two parts of the enzyme together. Starting with the original version of the enzyme, the researchers engineered in two amino acids that could form a chemical bond between those two parts (for those who know biochemistry, that's a disulfide bridge). This version was more stable at high temperatures than the original one.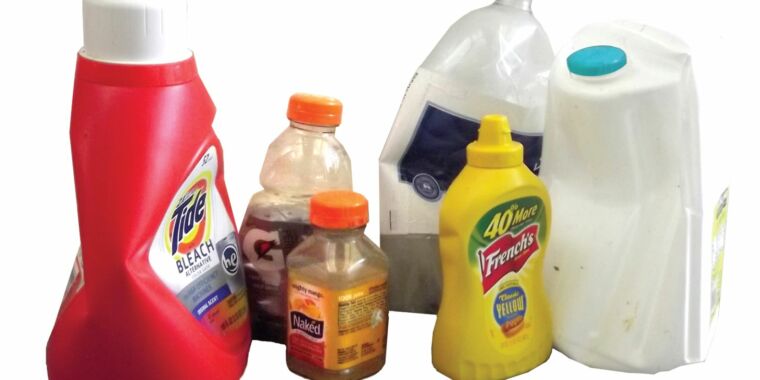 The resulting chemicals can be used to make brand-new bottles.

arstechnica.com