Joined

Dec 11, 2018
Messages

1,222
Trophies

0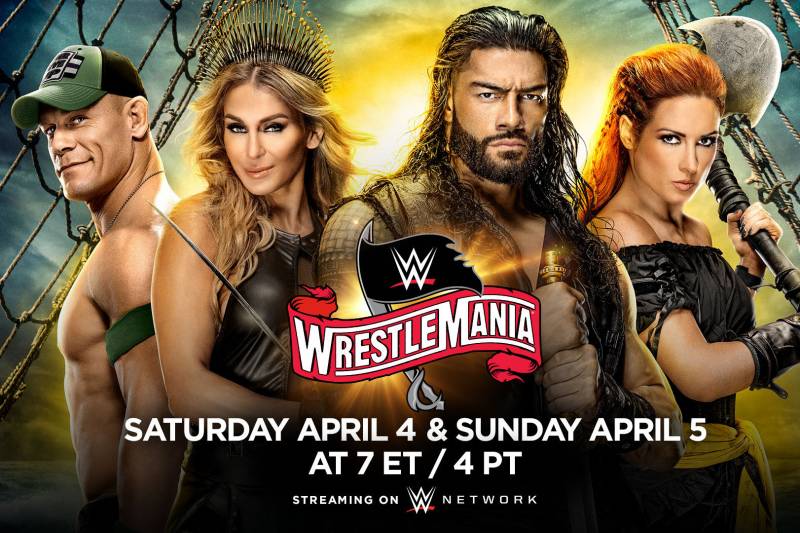 As the world is in turmoil from the mysterious virus WWE refuses to mention, Vince McMahon was adamant that WrestleMania would go on. And now it is! And not only that but it's two nights! For the first time ever, WrestleMania will be split into two nights and also for the first time will not be broadcasted live as it was all taped last week in various locations including the WWE Performance Center. As of now, no credible results have leaked and Vince has gone as far as to
threaten firing anyone who is found to be leaking them
. We also do not know which matches will take place on which night, as it was reported that WWE wanted to wait until everything was taped and edited to decide match order. To preface this rundown, all of these matches kind of have a limit on how good they can be with no crowd so any quality judgement is with that perspective in mind. Also, nobody has any idea what this show is gonna look like. WWE has experimented in surveys with putting PiP of fan/legend reactions to matches as they are happening. And we know some matches were taped in alternate locations. So we are flying blind here. So with that all out of the way, we look to the card. SIXTEEN MATCHES.
WWE Universal Championship - Goldberg (c) vs. Braun Strowman
Let's just get this out of the way. WWE taped this two weeks ago, yet they have kept pretending Roman Reigns was in this match (even after Roman himself said publicly he was not) up until about an hour ago when they just randomly announced Braun to be replacing him with zero explanation. The real reason was some combination of Roman not wanting to wrestle at the tapings due to his compromised immune system and him being convinced by the Usos. So here we are, with Strowman randomly inserted into the match. The result is a match that is more up in the air, but will probably be a short affair.
WWE Championship - Brock Lesnar (c) vs. Drew McIntyre
After winning the Royal Rumble, Drew McIntyre quickly made known his intention to challenge Brock Lesnar. Since then, he has generally been booked like a killer and has gotten to better of Brock at almost every turn. This match will probably be a fun slugfest, though it will be interesting to see the result. It definitely seemed a few months ago like McIntyre was destined for a win here, but they may not want to have his crowning moment in front of no audience. Though you can say that about a lot of the results on this show so maybe it's just gonna go as planned.
BONEYARD MATCH - Undertaker vs. AJ Styles
What the fuck is a Boneyard match? Your guess is as good as mine. This feud has been super weird, with Undertaker just straight up talking about his wife and talking shit about AJ's career and AJ talking about how Mark Calloway is a broken old man. And now they are gonna have some sort of gimmick match in a graveyard or some shit. I legit have no idea what this is gonna look like. It will probably be very hokey.
Firefly Funhouse Match - John Cena vs. "The Fiend" Bray Wyatt
After losing his title to Goldberg in two minutes last month (remember last month?), The Fiend interrupted John Cena and pointed at the WrestleMania sign. So then it was on. And the feud has mainly been Cena talking about how much of a fucking geek Bray Wyatt is and how he is gonna squash him. No, he legit said he's going to bury and squash him. And then Bray said he wanted it to be a "Firefly Funhouse match", whatever the hell that is. As with the above match, expect zaniness and a treasure trove of wacky Cena reaction gifs.
Last Man Standing - Edge vs. Randy Orton
Okay this one gets no snark from me, this feud has genuinely ruled. Both men have cut awesome promos throughout and Randy has been made to look really good. It's a shame Edge's big singles comeback match is happening in this fashion but the build itself has been tremendous. Randy just completely killed Edge the night after the Rumble, then killed Matt Hardy, then killed Beth Phoenix. And now Edge wants to kill Randy. Simple shit, but it works. As for the match itself, I'm not sure how it will go. Edge has traditionally been pretty smart at making these types of gimmick matches work, but Randy has a habit of not delivering in moments like this. In any event, I am actually looking forward to a match I had no interest in when it was rumored.
WWE Raw Women's Championship - Becky Lynch (c) vs. Shayna Baszler
It has been a full year since Becky Lynch captured the Raw and Smackdown Women's Championships in the main event of WrestleMania. And now a year later she finds herself still the Raw Women's Champion and has turned away every challenge along her path. The likes of Nia Jax, Lacey Evans, Sasha Banks, Asuka, and more have tried and failed to snatch the title from The Man. Enter Shayna Baszler, who quickly made her presence known by attacking Becky Lynch from behind before going on to decimate every other woman in the Elimination Chamber without breaking a sweat. As such, she stands as the biggest threat Becky has faced yet in her reign right as it seemed Lynch was getting overconfident about her hold on the title. Will Shayna do what her friend Ronda couldn't a year ago and end the record reign of Lynch? Or will Becky cement her reign with yet another defense?
WWE Smackdown Women's Championship Elimination Match - Bayley (c) vs. Sasha Banks vs. Naomi vs. Lacey Evans vs. Tamina
No, I don't know why Tamina is in this match either. So apparently this was supposed to be Sasha vs. Bayley, but they both thought it was too early for that match and got it axed. So now we stand with a five-way elimination match. Logic says it should come down to Sasha and Bayley since they are partners and it would increase the tension of their dynamic, but this is WWE so logic is an iffy thing to ask for. The easiest rundown of this match is that the fewer people left, the better it will probably get.
NXT Women's Championship - Rhea Ripley (c) vs. Charlotte Flair
When Charlotte won the Women's Rumble, she made a surprising decision in choosing to go after NXT Women's Champion Rhea Ripley, who captured the title from Shayna Baszler back in December. The two have gone back and forth attacking one another and that's mostly been the feud. There's really no deeper issue here. Rhea has the title and Charlotte wants it. Rhea wants to prove she is better than Charlotte. Sometimes it is just that simple.
Kevin Owens vs. Seth Rollins
Ever since Seth Rollins turned heel months ago by aligning himself with AOP and calling himself "The Messiah", he has targeted Kevin Owens to prove his worth. The two have battled in various forms and fashions with partners mixed in along the way, but now at WrestleMania they finally go one-on-one and Owens gets the chance to silence Rollins once and for all. And Rollins gets the chance to eliminate Owens from his path and move on to bigger and better things.
WWE Intercontinental Championship - Sami Zayn (c) vs. Daniel Bryan
While the world is falling apart around him, Daniel Bryan has quietly been plotting his own fun stuff on Smackdown. He feuded with Drew Gulak leading to an awesome match last month at Elimination Chamber, and now he is matched up with Sami Zayn, who took the title from Braun Strowman last month in a match better left forgotten. Now the two meet at WrestleMania in what on paper looks to be a great match. Zayn has battled injuries that have kept him on the sidelines and as a manager for so long that I can't even remember his last high-profile singles match in WWE, so hopefully these two go out and put on a show.
WWE Smackdown Tag Team Championship Ladder Match - Miz & Morrison (c) vs. The New Day vs. The Usos
THIS MATCH IS NOT HAPPENING. This match was not taped, it did not happen. Some variation of Morrison and one of the Usos (and maybe one of the New Day?) will be in a ladder match, but this match is bullshit and is absolutely not happening the way WWE is advertising it. So we'll see what happens in its place.
WWE Raw Tag Team Championship - Street Profits (c) vs. Austin Theory & Angel Garza
This match was supposed to include Andrade, but he hurt his ribs at a Raw taping a few days earlier so he was replaced with NXT's Austin Theory. There's really no feud to speak of here and the match is really random, but it will probably be alright.
Elias vs. King Corbin
Corbin tried to kill Elias by throwing him off a stage at the Performance Center. That's all I got. This match will almost certainly be very bad.
Aleister Black vs. Bobby Lashley
I don't know why these two are having a match. I guess they were available and WWE wanted to get them on the show. Aleister Black will probably win. It's a match that will happen, it will exist. It will probably be
okay
.
Otis vs. Dolph Ziggler (w/ Mandy Rose)
ALRIGHT. Here we go, a match with some build. Legit, this is the second best built match on the show just by virtue of having a build and being planned for months. Otis for months had a crush on Mandy Rose and finally worked up the courage to ask her out to a date on Valentine's Day. She accepted and the date was on. Then, when it came time for the date Mandy never showed and she ended up with Dolph Ziggler instead. BETRAYAL. Heartbroken Otis was then taunted and tortured by Dolph and Bobby Roode at every turn as he attempted to get his revenge. Along the way, Mandy maintained that she never got messages from Otis about the date. Obviously she was lying to cover herself, so the match was set between Dolph and Otis for WrestleMania where Otis could finally get his hands on Ziggler. BUT WAIT THERE'S MORE. On Smackdown this week, it was revealed (by a random hacker who is probably Ali) that SONYA DELETED THE TEXTS BEFORE MANDY COULD SEE THEM. DOUBLE BETRAYAL. FINALLY AN EXPLANATION. Mandy, infuriated by the betrayal of her friend, walked out as Sonya pleaded with her. Now there is doubt in the air, will Mandy be in Dolph's corner? Will she end up with Otis now that the truth has been revealed? DOES ANYONE CARE ABOUT TUCKER IN ALL OF THIS? WHAT HAPPENED TO BOBBY ROODE? WrestleMania will bring resolution!!!
WWE Women's Tag Team Championship - Kabuki Warriors vs. Alexa Bliss & Nikki Cross
Sure, why not. Asuka and Kairi are a fun team. Alexa and Nikki are a fun team. This match will be fine. These titles don't really matter anyway so who cares about the result. Asuka and Kairi will probably lose and nerds will probably cry about it.