Joined

Aug 8, 2022
Messages

7
Trophies

0
In this article we are going to count rank from fun to most fun, the best zombie games that you can play on your IOS device. If you're a fan of slaying the undead, becoming a hero in the process and keeping the last survivors on earth safe, this article is for you.
10: Zombies, Run​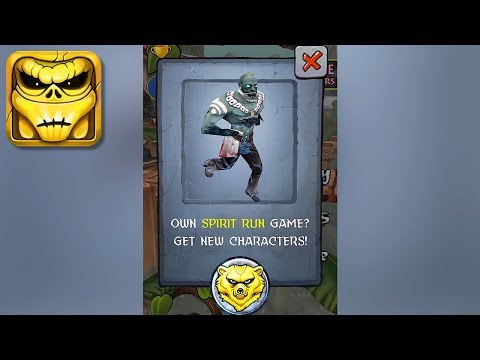 Zombies, Run gameplay
The idea of getting fit while you participate in a zombie adventure game has never been a conceptual idea until the release of Zombie, Run, in 2012.
We've all seen movies where survivors of an apocalypse have to run for their lives as hordes of the undead chase them, but what if you were the one running from the zombies?
Zombies, Run, is a mix of a fitness app and a physical running game. It combines elements of both, while having one of the best stories of any game on this list. The game is an audio adventure where you become the hero of a post-apocalyptic world full of zombies. have to run around your very own town as you collect supplies for your base.
The concept is one of a kind, and the fan reviews speak for themselves. As who wouldn't want to be a hero, while pushing themselves to get fitter at the same time. The developers have executed this game extremely well.
The audio drama is intriguing and keeps players interested as they work through the game, evading the undead at every corner. This isn't your normal zombie game, but for those who like to be outside of the box, this has been a great experience.
9: Mini DAYZ 2​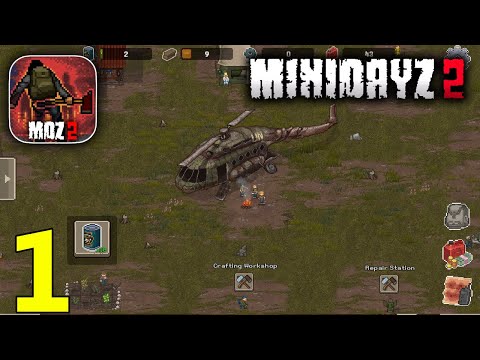 Mini Dayz 2 gameplay
Mini DAYZ 2 is a game that is often underestimated due to its top-down view aesthetic, giving it an appearance of one of the older GTA games. As you begin to play it through, you soon realize it's actually a fun game.
The game is set in the outbreak of a plague which turns the majority of the world into our favorite kind of brain-eating zombies. Your aim is to save as many as you can, while simultaneously becoming the leader of a group of survivors.
Pick members of your crew to accomplish different tasks, all which help keep the camp running smooth and strong. On a personal level you will also have to monitor your character's vitals, which makes it feel like a great survival game.
The game has a retro feel and can be buggy from time to time, yet this does not take away from the overall aesthetic of the game, and it's certainly worth a play.
8: AI Dungeon ​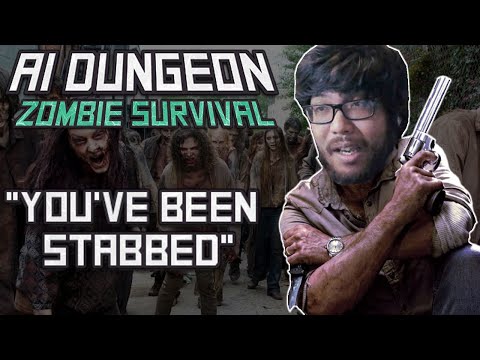 AI Dungeon gameplay
AI Dungeon is a game which takes us back to the beginning of computer games, to a time before audio and cutscenes, back to the text based adventure game scene of the early years. While AI Dungeon isn't completely a zombie game, it still has an exciting and authentic zombie option to play various scenarios in which you can slay hordes of the undead. The game has close to infinite possibilities to how the story could play out and each action you take as you progress through the story will determine how the story plays out.
The game is an amazing narrative driven adventure, but also brings about a reminiscent feeling as to how the original games would have felt all those years ago. It's a great game and the zombie scenes are really fun to play through, and if you've ever wondered what kind of games your father played in his teens, this will be pretty close.
7: Death Road to Canada​
Death Road to Canada gameplay
Death Road to Canada may be the most random game you ever play, and this is not a sarcastic joke. The game's best feature is that all the levels are randomly generated, including: locations, events, skills and survivors' personalities.
The main story of the game has you manage a bundle of survivors from Canada to Florida, which is the last surviving nation on the planet after a zombie apocalypse. As you travel, you'll come across a multitude of events, survivors and places, all with a different story to tell. Since every element is random, you can play through the game many times, enjoying a new perspective each time.
You can create your own character in the ingame character maker, which is a nice feature allowing personal customization. Your character's fate will be based on the decision you take as you play through the game.The game is extremely fun and although it can be unstable, it's still a great zombie game with one of the better stories in this list.
For more:
[Top 10] Best Zombie Games For iPhone (Ranked Fun To Most Fun)
Let me know what you think