Joined

Jul 17, 2021
Messages

163
Trophies

0
Here we are at the role that everyone loves to play but most people suck ass at it. If you never played League of Legends before but you found yourself here at my article let me tell you that everyone loves playing mid-lane.
Even your WW2 veteran grandpa would choose mid and say "mid or feed''. Unlike some of the players who play mid these professionals know what they're doing and they know how to carry the game on their backs. These players will roam, gank, help their jungler while low elo players will just sit on mid and farm minions not caring about a single thing in the world thinking they can 1v9 the match.
While in reality they get stomped on and pushed off to the side. In this list, you'll find some people I already mentioned in my previous article about the best carry players in the world, and some will be new. Not to mention some players will be retired while others will be active, but nonetheless, they are still considered legends and some of the best mid laners this world has to offer! Let's not waste any more time and let's get into it!
10. Lee "Kuro" Seo-haeng​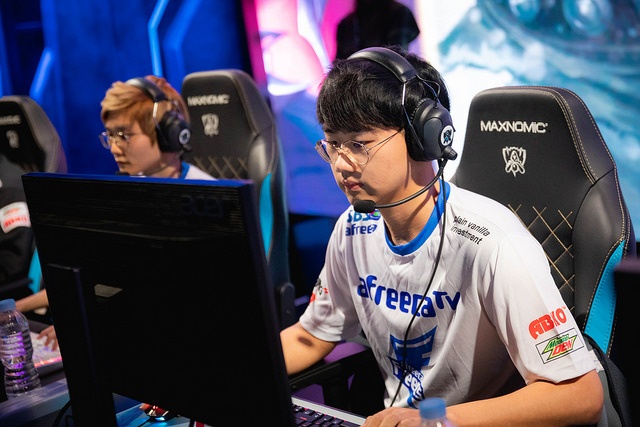 70% win rate on Viktor in the professional scene.
Lee "Kuro" Seo-haeng is a South Korean professional mid-lane player for "KT Rolster". Sadly Kuro is a retired professional player but before his retirement, he showed us what it means to be a good mid laner.
He is one of the best mid-lane players who has unfortunately never won a World Championship title even though in many eyes he deserved it more than anyone else. But on a good note, Kuro has won the LCK 2016 Tournament and the KeSPA 2016 Cup. Kuro is mostly remembered for his outstanding performance on Syndra and Viktor.
He even managed to receive a +70% win rate on that champion over a total of 46 games during his career. During his career, Kuro managed to get 1000 kills in the LCK on the 8th of June 2017 and was the fifth player to do that.
How badass is this player?
- Kuro managed to keep a positive win rate by the end of his career and he even had a positive win rate on Viktor which was over 70%. Some of the champions Kuro loved to play are Viktor, Syndra, and Kassadin.
Major Tournament Achievements:
Kuro with his team "ROX Tigers" achieved first place in the KeSPA 2016 Cup which earned him 33,938$.
He also managed to achieve first place in the LCK 2016 Tournament with the same team which earned him another 90,399$.

Lee "Kuro" Seo-haeng Twitter:
[Top 15] LoL Best Mid Player In The World
www.gamersdecide.com