Joined

Jul 17, 2021
Messages

163
Trophies

0
Sup choombas! When it comes to weapons they come in all different flavors. This game has it all to satisfy your need for guns. If you're someone who loves to get up close and personal, you have a variety of shotguns and katanas to pick.
If you love the medium range you have SMGs and pistols. But if you're more of a guy who loves to stand back and fire at your targets you have a huge pool of sniper rifles and assault rifles to choose from. So let's not daddle around anymore and get into the list!
10. Mantis Blades​
First, we have mantis blades that make you look like the praying mantis once you have them out. But a cool praying mantis. They're melee weapons that deal great damage up close and even have unique take-down animations.
Their speed is incredible and you can slice up people in seconds and turn them into mincemeat. Not only that but you can also find a legendary variant for free in a footlocker in Wellsprings on a rooftop near Epistrophy: Wellsprings. They go well with a melee build.
What makes Mantis Blades great:
Quick speed
High DPS (if going a melee build).
Able to deal with thermal damage.
Few legendary variants are free to find.
Medium cost at a ripper doc.
Mantis Blades Stats:
Base DPS: 118-144
Attack speed: 2
Bleeding Chance: 10%
Physical/thermal damage: 63-77
9. Skippy​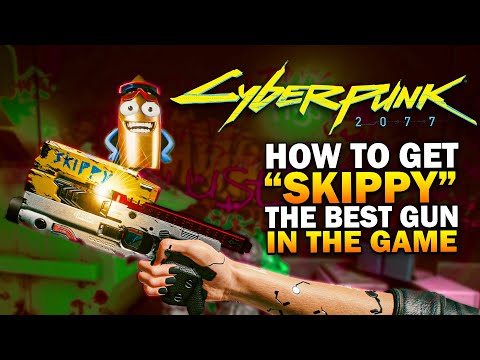 At a first glance, this just seems like a normal smart handgun but in reality, it's much different. You see, Skippy can talk and permanently headshot people. You can find Skippy in a side gig called "Machine Gun", but after the side gig is over you have to return Skippy sadly.
But to keep this little annoying guy around you forever, you simply never finish this quest. Don't worry about being the highest level in this game as this little handgun scales to your level.
What makes Skippy great:
He's a smart gun, which means he shoots people for you.
Each shot is a headshot.
He can talk to you while you're using him.
Deals a nice amount of damage.
Skippy stats:
DPS is 181.9.
36-44 damage.
4.55 Attack speed.
Lock onto people and each shot is a headshot.
[Top 10] Cyberpunk 2077 Best Weapons And How To Get Them
www.gamersdecide.com