CBS has revealed some new promotional photos for
Star Trek: Picard
"The End is the Beginning" (S01E03) and we got them right here for you!
Please note the photos may contain spoilers.
The photos show Picard's ship, La Sirena, to the remainder of the new crew yet to appear. Also showing Santiago Cabrera as Captain Cris Rio and a closer look at Raffi Musiker on Earth. Flashbacks can be seen with Admiral Picard and Commander Musiker in Starfleet uniforms, post-
Nemesis
and pre-
Picard
itself.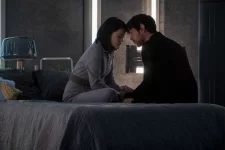 Episode 3 "The End is the Beginning" will become available on February 7th, 2020 via Amazon Prime Video.
"The End is the Beginning" synopsis:
"Completely unaware of her special nature, Soji continues her work and captures the attention of the Borg cube research project's executive director. After rehashing past events with a reluctant Raffi, Picard seeks others willing to join his search for Bruce Maddox, including pilot and former Starfleet officer Cristóbal Rios (Santiago Cabrera)."
Star Trek: Picard
airs weekly via CBS All Access in the USA, Crave in Canada and on Amazon Prime Video elsewhere.