Joined

Dec 11, 2018
Messages

1,222
Trophies

0
It's rare that a remake is greeted with universal enthusiasm—usually, for every nostalgic fan there are at least five skeptics bracing for a letdown. But when the HD remake of

Final Fantasy VII

was announced, the news was greeted with wall-to-wall cheers. Square's JRPG masterpiece, originally released in 1997, is not just a beloved video game—it's a cultural phenomenon that has spawned full-length films and countless spin-off. Over the past three decades, millions of players have taken up the buster sword alongside Cloud Strife and co. on a twisting, emotional, three-disc journey across Gaia to destroy the evil corporation Shinra and the root of its madness: Sephiroth, the megalomaniacal, gray-haired "

One Winged Angel.

"

Without a doubt,

FFVII

—which remains the most popular and commercially-successful installment in an already-legendary series—is a monolithic achievement, a game that was completely ahead of its time. Its story is as thematically grand as an epic novel, touching on everything from climate change and geopolitics to post-traumatic stress disorder and Freudian angst. Its unprecedented approach of blending 3D polygon models with pre-rendered 2D backdrops set a new high-water mark for the subgenre from a technical standpoint. And then there is composer Nobuo Uematsu's score, which is the glue holding this story together, now revered as the alpha and omega of video game music composition. At the risk of spoilers: what would Aerith's death be without "Aerith's Theme?"

Chris Cutman, label head of video game remix label

Gamechops

, vividly remembers the way the score first grabbed his imagination. "

Final Fantasy VII

was the first game world where I felt totally immersed. The work of Uematsu carried the narrative for me. The polygon graphics of the Playstation left so much to the imagination, but the music was lush and vibrant right off the disc. To me, music was the most compelling component of playing through

FFVII

."

By the time the game hit the production cycle, Uematsu had already solidified himself as a master video-game composer through his work on previous entries in

Final Fantasy

series, as well as

Chrono Trigger

.

FVII

's increased marketing and development budget rewarded him with his biggest platform to date—not to mention a vast in-game world to score. Max Allison, who performs under the name

Mukqs

and co-runs the label

Hausu Mountain

, praises Uematsu's innovative use of the console's engine and composition techniques.

"My favorite aspect of the

FFVII

soundtrack, aside from Uematsu's always legendary melodic sensibilities, is the very distinct palette of higher-definition orchestral and electronic voices," he says. "Hearing the escalation from

FFVI's

more homespun, 16-bit tracks is a wonder. It comes out especially in tracks like the 'Boss Theme,' which is an intense, post-Deep Purple hard rock/prog track, with overlapping organ tones at warp speed. Also, 'Forested Temple,' which exploits the classic tinny acoustic guitar midi voice as a complement to more hi-def synth voices, all against a swirl of woodwinds and strings [is a favorite]. The title theme is a 7-minute epic. As a stand-alone piece, it's incredible and so dramatic."

To celebrate the return of this cultural icon, here are eight remixes and releases inspired by

Final Fantasy VII

.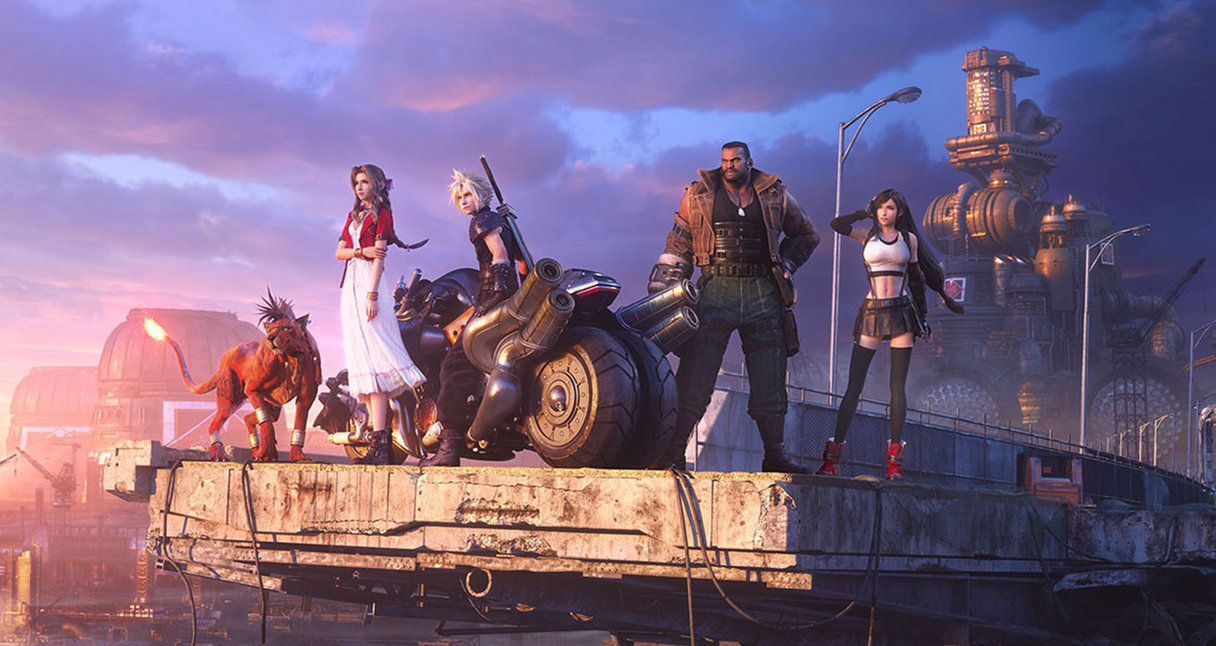 The iconic JRPG has inspired everything from hard-hitting hip-hop to reverb-heavy vaporwave.

daily.bandcamp.com