Joined

Nov 27, 2019
Messages

172
Trophies

0
I've published a number of game reviews just for fun on the forums at VGR.com. I decided to share my latest on here for you all on Joy freak looking for some additional feedback. Enjoy!
Link to the original review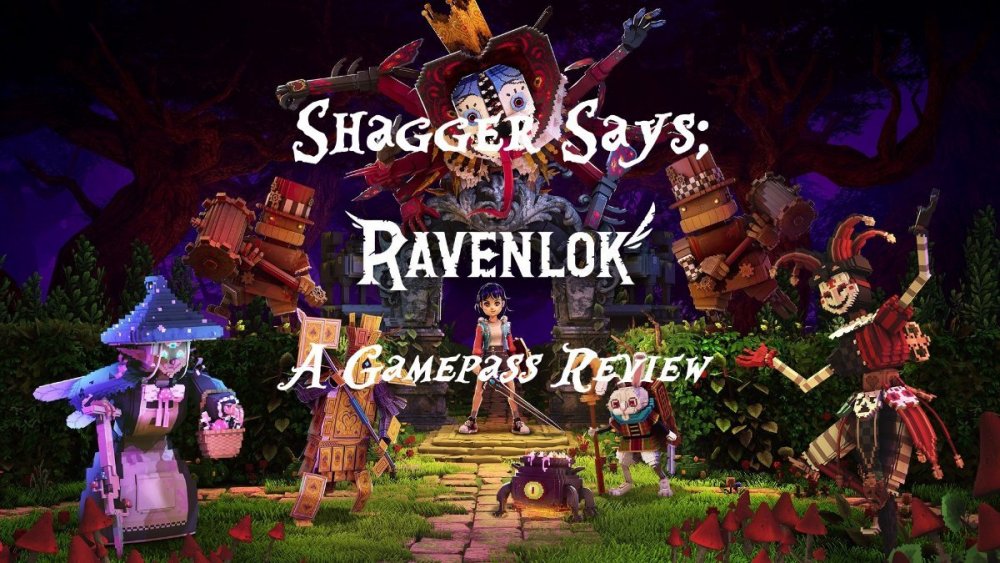 ​
Remember when everyone was crying out for somebody take Alice in Wonderland, Minecraft and the Legend of Zelda and throw them all in together?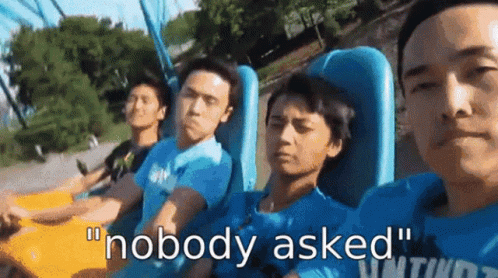 ​
OK, I don't remember that either, but the independent game studio Cococucumber based out of Toronto have answered the call anyway with this interesting little ditty that just launched on PC and the Xbox brand. Could have been better timing though, releasing this game to a world seething at Xbox over the disaster that is Redfall, but that's kind of why I wanted to both play and review this. I'm not particularly interested in stoking an already raging fire, what's the point?
So I decided instead to have a conversation about a game likely to fall under the radar in the hope we might find a little gem here. And do we? Well, in all honesty, it's difficult to say. For £20, which is not exactly cheap for a game of this caliber, it is not a simple choice to buy this;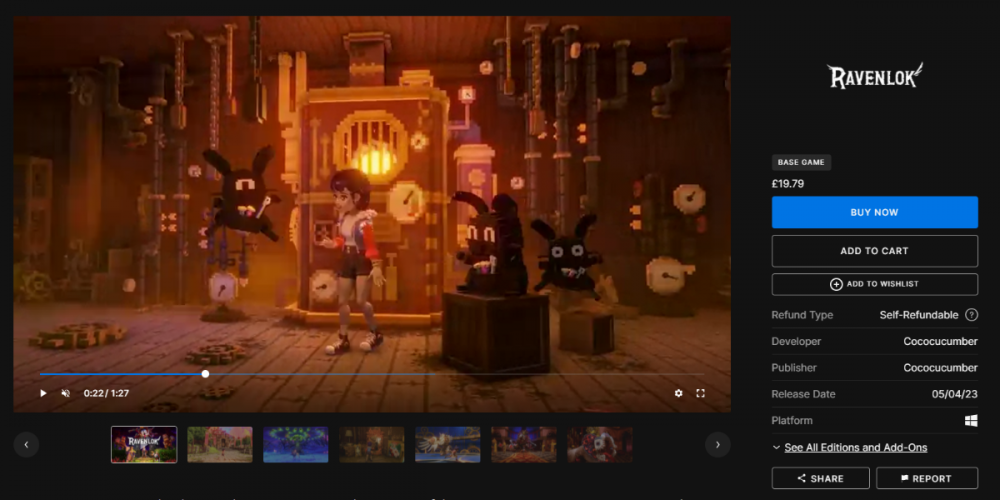 ​
Thanks to Gamepass, I paid no extra, but that's beside the point.
There are things this game does very well, but also things, and major things, it gets a bit wrong. Ravenlok is a beautiful game, one of the most beautiful I've ever played, and I'm not exaggerating, just check this out:
There are stylishly pixilated textures and blocky models mixed in with these smooth lines and vibrant colours that, frankly, should be a horrible contrast, but somehow it works, and I mean really works. The design is very creative, it literally looks like a dream. The detail is there as well, there is something to notice and admire on every part of the screen at any moment. There has also been no graphical anomalies or glitches of any kind that I noticed. There are obvious inspirations here, just take one look at this screenshot and tell you don't recognise this immediately;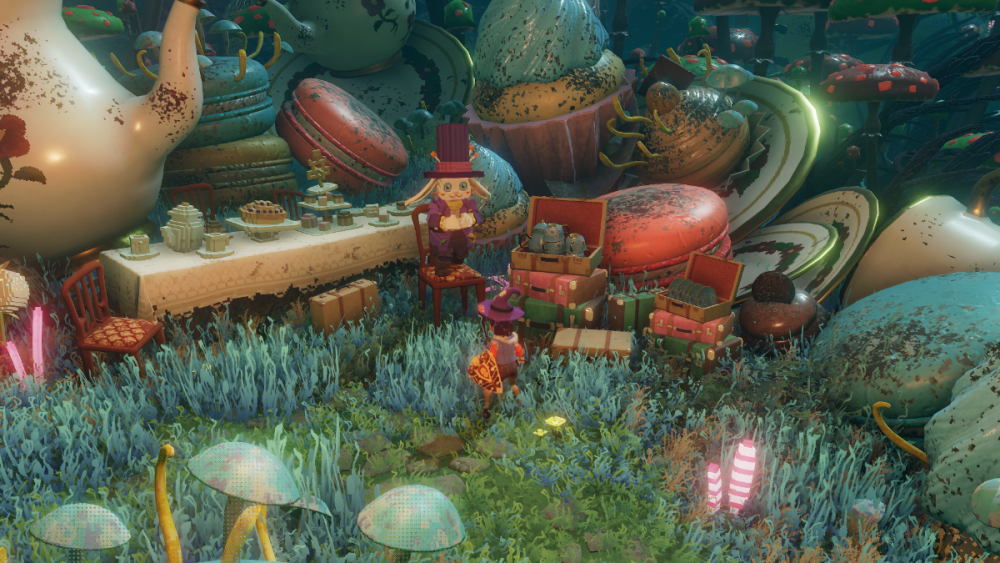 ​
But this game doesn't feel like a rip off, it feels like an homage and a joint understanding of what makes great creative design. The unique perspective the game helps give this game a visual identity all of it's own. The game runs great even on my mediocre hardware.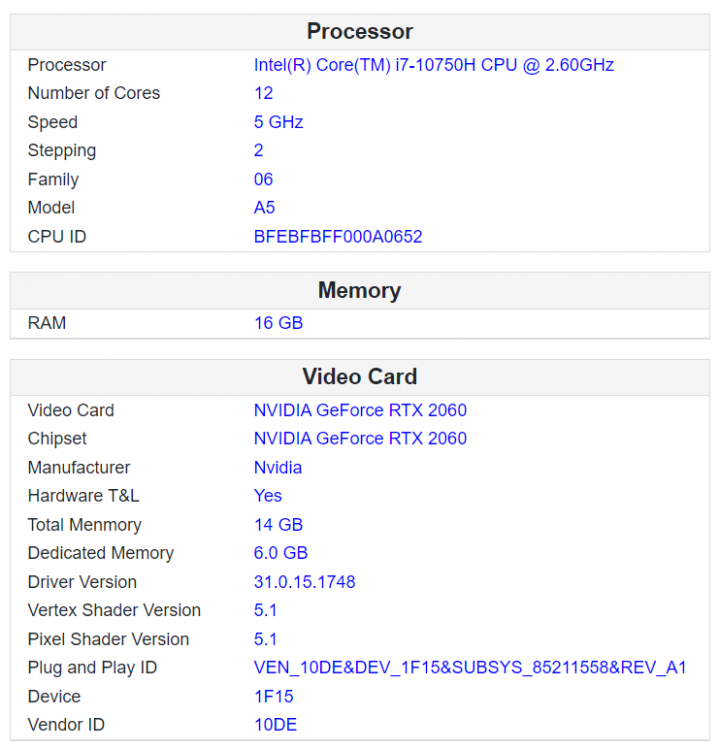 ​
Frame rates well into the 100's consistently. Sadly, at least on the Xbox Gamepass for PC version I played, there is no real graphics options. You can toggle V-sync on and off, set a maximum frame rate, switch between windowed and full screen, set the resolution and that's about it. Not that I consider this a bad port, far from it, like I said it runs beautifully and I really do not see anyone having trouble running this unless they get way too ambitious with very low end hardware. Here are the PC specs as listed buy Xbox. The spec's EGS list are less detailed, but pretty much the same.

​
And by they, the game is
not
available on Playstation 4/5, Nintendo Switch nor any other PC store other the EGS, Just in case anyone was wondering. This game is on Xbox consoles, Xbox on PC and EGS.
So, it's great looking game ad you don't need a supercomputer to get best out of it, but that matters little if the isn't fun to play. and is it? Well, yes it is, but it's not without problems.
The good stuff first. There is something unique in terms of how the came is presented. The best I can do to describe this game is call it a 3D side scroller. You view the game prom a perpendicular perspective, like a side scroller, but you the character through a 3D environment. You also have some limited ability to turn the camera around in any direction. The video below should help show you what I mean.
I apologise the audio quality in some of the videos. It appears my microphone picked up a load of background noise on some of them for some reason.
This sounds like it should be a mess, but the developers knew what they were doing. This actually feels great to control and gives you a clear perspective of the environment. There are one or two areas with more depth where I did miss being able to turn the camera all the way round, but this is not a huge issue.
I was using a controller and the default bottom mapping is well feels intuitive and makes the game easy to play.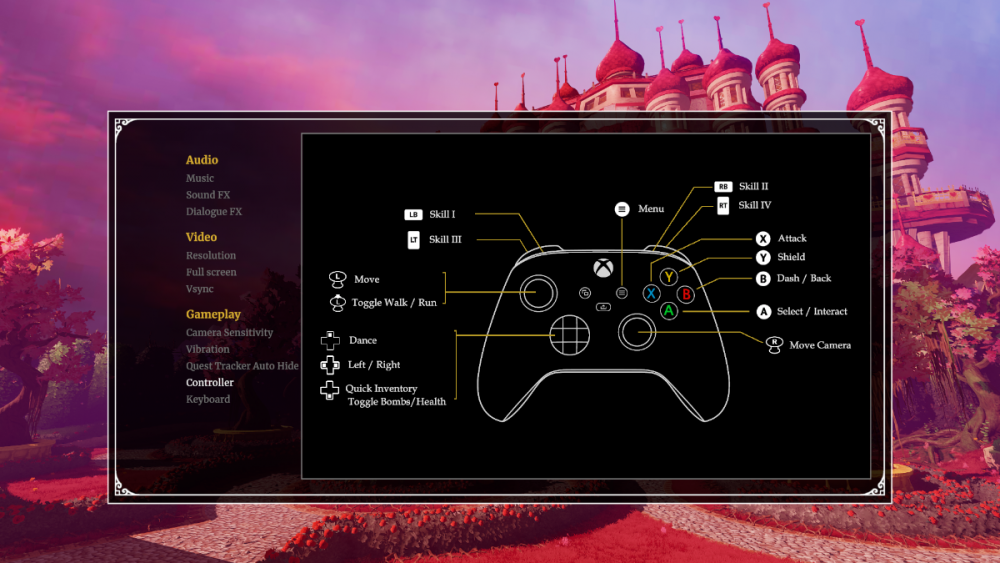 ​
There may be one control there that looks a little odd, because it is: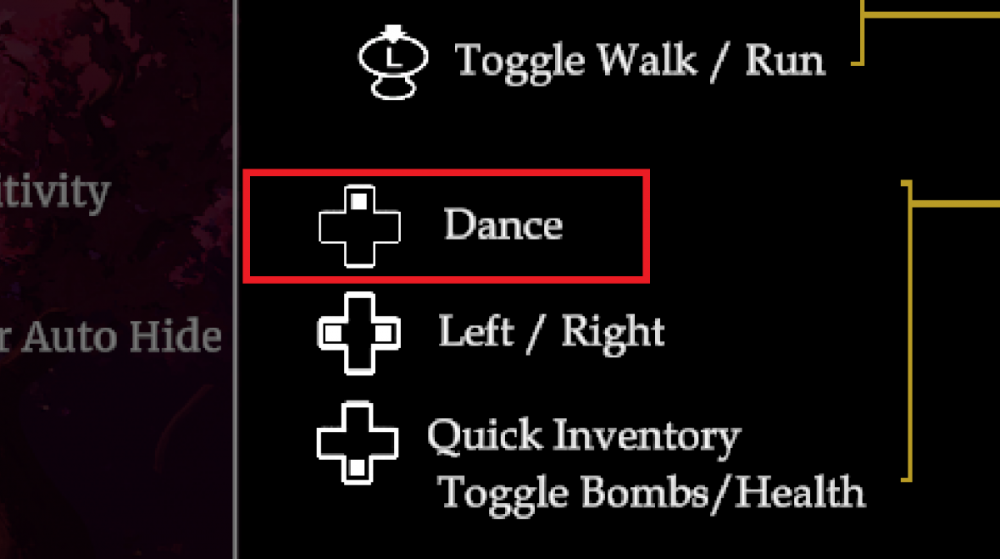 ​
And yes, you can dance!
Believe it of not, this actually works its way into the game mechanics. You use the dance to pick up specific collectables. This might be weak excuse to include this, but it's worth questioning either. In the end, it's harmless, so I say just go with it.
Anyway, the combat is simplistic, but satisfying. An attack, a block, a dash/dodge and special abilities you unlock through the game mapped to the shoulders and triggers. Not much more to say, what you see, is what you get:
There is also options available to use potions and bombs from a menu accessed by pressing down on the d-pad, although this felt a little wielded as you pressed down again to switch between bombs and potions. I think the set it up like this to minimise the chance of using a bomb when you wanted a potion by mistake and vice versa, and that's fair enough, but it does take a little getting used to.
However, it's also in combat that game starts to run into problems. I called the combat simplistic, but satisfying, and it is, but it's also far too easy. Normally, I wouldn't complain about a game's difficulty, but I do this time because this game does not have a way to change the difficulty. And I promise, I'm not being stupid, I looked everywhere. You can't set it at the start of the game and there is nothing in the options menu. Normal enemies are almost no threat outside of a select few times in the game whare they spawn in waves and in large numbers. Your attack speed and movement is significantly faster that anything else and your attacks interrupt enemy actions, so you can basically just attack constantly and never get hit so long as there is never more that one or two enemies targeting you. As you can see below, it's a joke:
And no, the "It's for kids" defence is not going to fly with me here. Being a kid doesn't make one stupid nor an invalid.
The game is rated 7+ by PEGI, so this isn't a toddlers game. The youngest audience this aims for are old enough to have thier cognitive functions at least adequately developed to play a video game and want some challenge out of it. I've played games like Ori and the Blind Forest and Child of Light that are rated for a similar audience and can be challenging games if you want them to be. When I was 7, I was playing games like Golden Axe, a game that doesn't exactly pull it's punches. And did I complain? Yes! Of course I did, I was a kid, but that doesn't change the fact that was exactly how it was supposed to be. Besides, there's a difference between combat that's meant to not be too difficult and combat that's broken. This is the later.
Thankfully, the boss fights do fair a lot better;
You will be avoiding AOE attacks as they can do a lot of damage, blocking and tactical use of specials will be necessary at times, but I never really felt in great need of the bombs, but did use potions on occasion. The attack spamming that disables normal enemies doesn't work and they employ a variety of patterns, but they're still not exactly hard. I don't think I took more than 3 tries to bead any boss. This is made worse by the fact the game, even with me searching around and exploiting a lot, doesn't even stretch to 7 hours.
There's another thing that annoyed me straight away, and that's was how sporadic the achievements were. There's an achievement for almost everything, including the most trivial things like wearing a hat, levelling up and even imputing your name. I'm not joking, the character in this game you name yourself, and you get an achievement for naming right at the start of the game.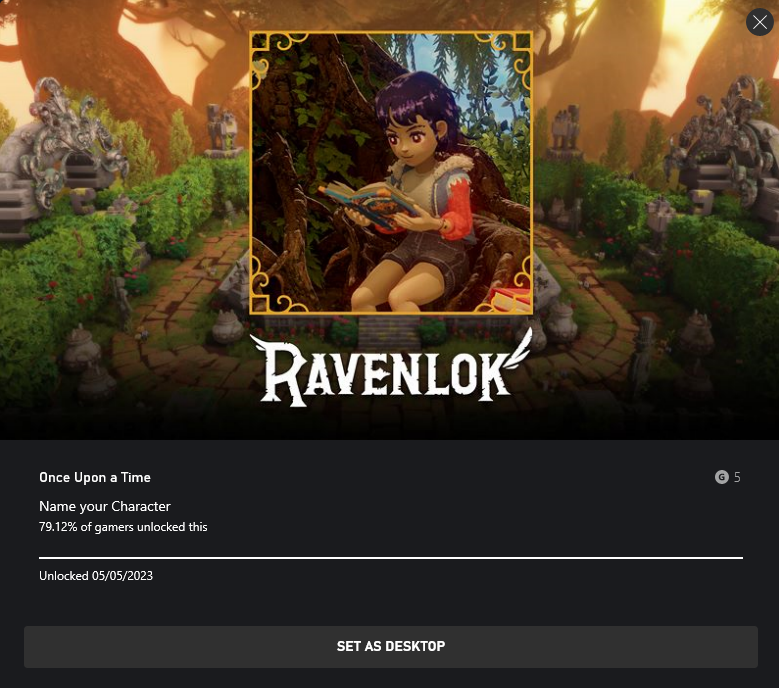 ​
I have a habit of naming my save files and characters after my gamertag or something similar, which made the dialogue a bit awkward in the game when talking to my mum...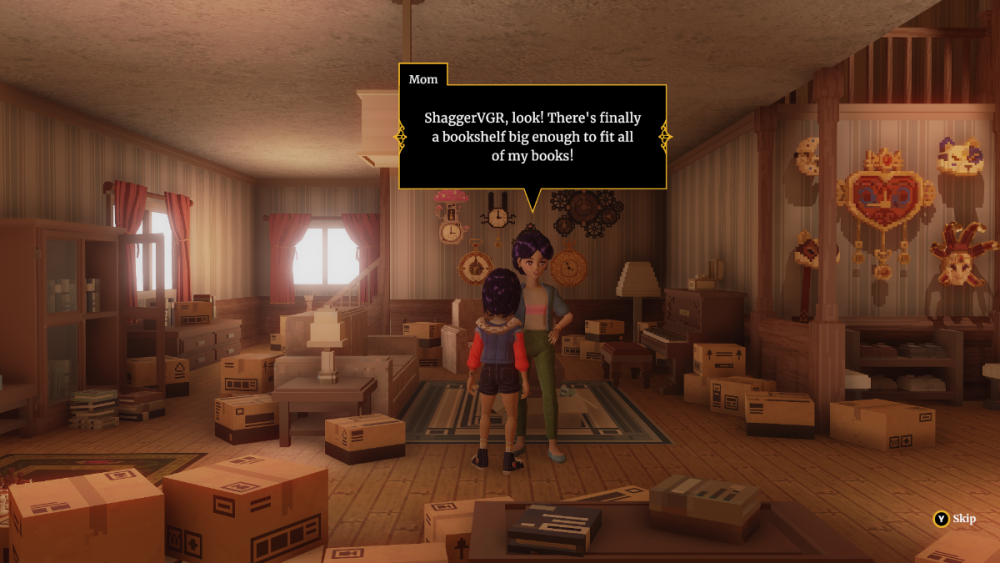 ​
So I decided to start again with something else...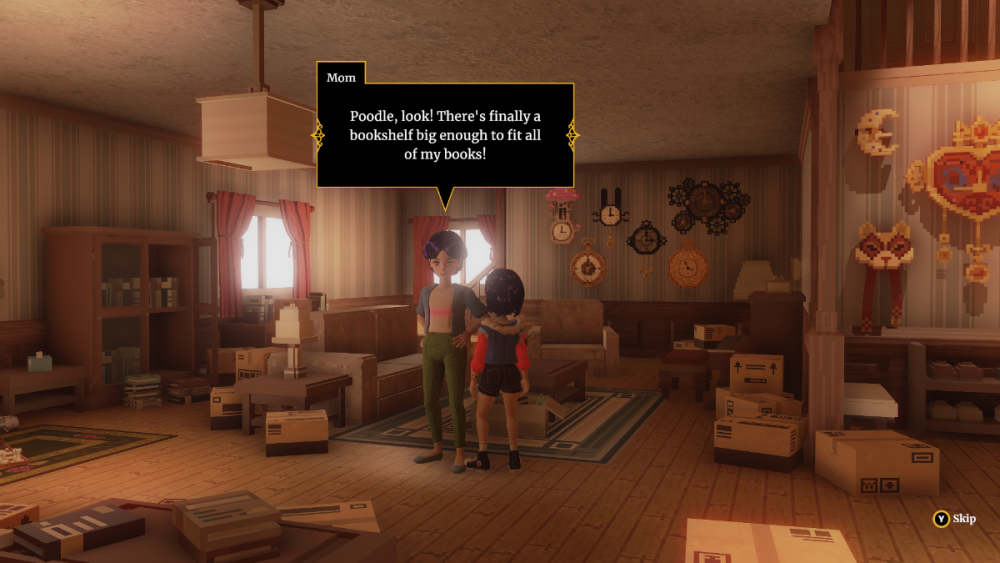 ​
Poodle, yes, that'll do.
Getting back to the point. You might look at those ridiculously easy achievements, the game's short length and the lack of difficulty and think, "Well this is a game for casuals, right?", and whilst I detest that term, you would have point. People who game more seriously might be put of by this and it would be hard to blame them.
The quest system isn't perfect either. The quests themselves are pretty good, a good mix of puzzles, collecting/fetching and combat, the usual stuff, but the way they are organised is underdeveloped and impractical. There is no defined parameters for quest types, so you can't side quests apart from main quests. Worse, you can pick up quests that are gated behind other quests with little to no clue what quests you can and can't do until you completed others. Take this screenshot, for example: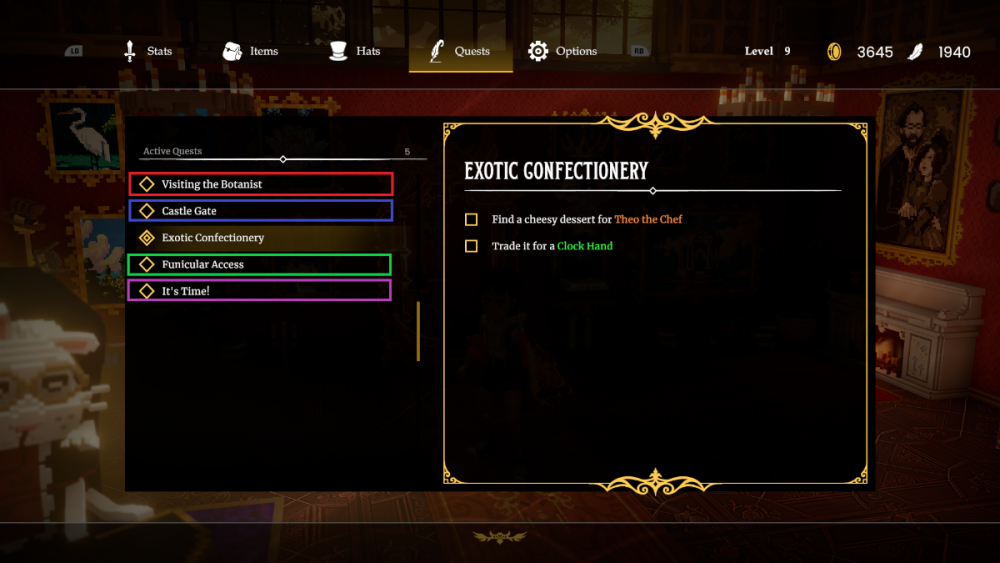 ​
The coloured boxes I added as an aid to make explaining this a little easier, they are not in the game.
The

Blue

quest is gated behind the

Red

quest
The

Red

quest is gated behind the

Purple

quest
The

Purple

quest is gated behind the

Green

quest
And the

Green

quest is gated behind the "Exotic Confectionery" selected here.
And you have to figure that out on your own. It's possible to do so, the game isn't that cryptic or misleading, but it's an unnecessary frustration that could have been solved with better quest management menus and tools. Tagging an active quest is all but useless as well as the game has no map feature and nor hud indicators to tell you whare to go. The only thing the quest tag is good for is to keep track of quest objectives, and the quest menu is good enough for that. Without some kind of objective marker on the hud and no map, quest tagging is pointless. Just set the quest display on the hud to auto-hide, you don't need it.
Music? Yes it's nice and suits the ambiance and atmosphere well enough. It's not the most memorable nor striking soundtrack, it's a more humble score. The music just went in there with a job to do and it did it well, there isn't much more to say. There's no voice acting, but sound design itself is solid with nice audio feedback in combat and well distinct sounds for actions performed in the game that feel appropriate and make sense. Again, not much to say, it's done well. That's what happens when sound design is done well, you don't really notice it.
Now, I suspect at least some of the people who read this might be on the fence. The game looks great with fun controls, but has issues with difficulty and some inconveniences. So the swing vote might come down to the story.
As you may guessed, this is very Alice in Wonderland. Our hero, who I like said named Poodle, has just moved to the countryside with her mother, father and dog. Whilst exploring her new home she finds a mysterious mirror that transports her to a mystical land. Upon arrival, she meets a local named Finn who believes she is a hero of prophesy named Ravenlok (Everyone then just calls her that throughout almost the entire game, making me wonder why had to name the character in the first place.) designed to save this last from the tyrannical and destructive rule of an evil queen. Poodle (yes, I'm sticking with it), with the help of many friends she meets along the way, sets off on her adventure to cure the land of the destruction the queen has wrought, end her reign and find a way back home.
Yes, the narrative ain't exactly original or unique, but without spoiling it, it gets stronger that it first sounds as the game progresses. There's no voice acting, the narrative is all told through text boxes, but the way it's written makes it easy to digest and absorb with the dialogue happening in short, but effective bursts. It's paced brilliantly, not so slow that the story feels padded out, but fast enough to keep you invested without overwhelming you. There's an interesting enough cast of characters that help flesh out the world and make it feel real, although I think some of the backstories and motivations of these characters could have fleshed out a little more. The basic narrative is clichéd, but the story they end up with is stronger than I expected it to turn out and does keep you playing. If the game had been longer, this story might have suffered for it, so the game's short length is something of a double edged sword.
Hold on! Just one last thing before you go;
​
​