Joined

Nov 18, 2022
Messages

3
Trophies

0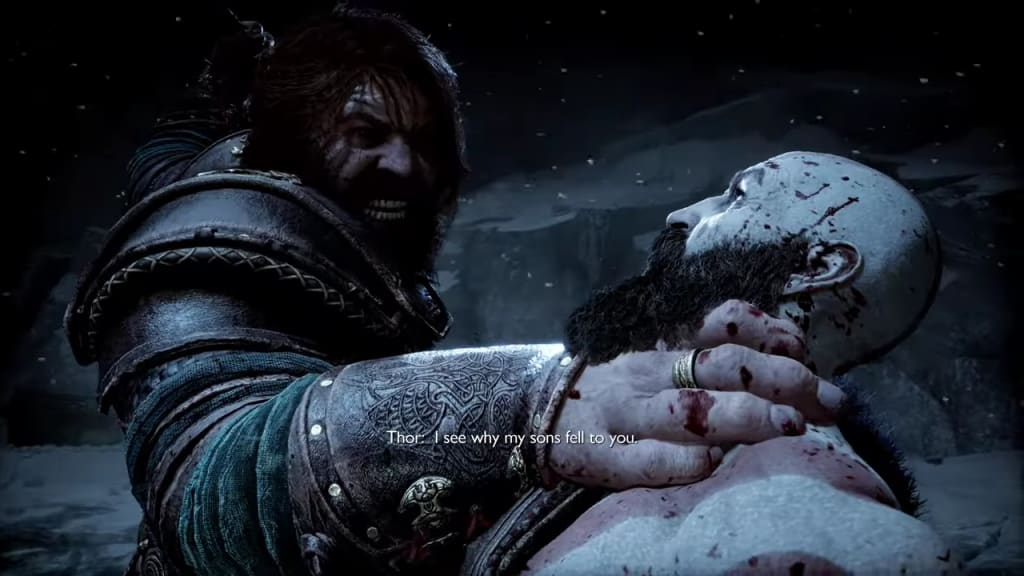 Thor vs Kratos lived up to its hype as it is the most anticipated fight leading into the release of the game God of War Ragnarok which sees Kratos going head to head with the formidable viking god Thor known for his strength, lightning and fits of rage. Read on as in this article we explore the deeds of the greatest fight in gaming history.
Warning:
This article may contain some major spoilers. For those who haven't played it yet you might want to stop here and explore the story first hand. But if that doesn't bother feel free to read on below
Kratos vs Thor - First encounter:​
Winner: Stalemate
In the first scene of the match-up Thor can be seen barging into Kratos home in a revenge mission with lightning and wind blazing but quickly changes the tone by offering mead (a medieval drink) as a peace offering to let Kratos let him into his home. Shortly the All father Odin shows up not long After.
Kratos, Odin and Thor have a long chat where they demand Kratos agree to some of their terms which include that Kratos and Atreus should stop their search for Tyre (the Norse god of war), keep Freya off their back and have no beef with them among other agreements. But Kratos being Kratos snappily replies with a resounding no which did not sit well with Thor and Odin. In which Odin quickly signals to Thor not to take all day in dealing ruthlessly with Kratos.
The fight begins. Before we can count our eggs Thor lunges a fatal blow to Kratos head with the mjolnir which catapults Kratos with the mjolnir far off the roof and into the woods of Fimbulwinter.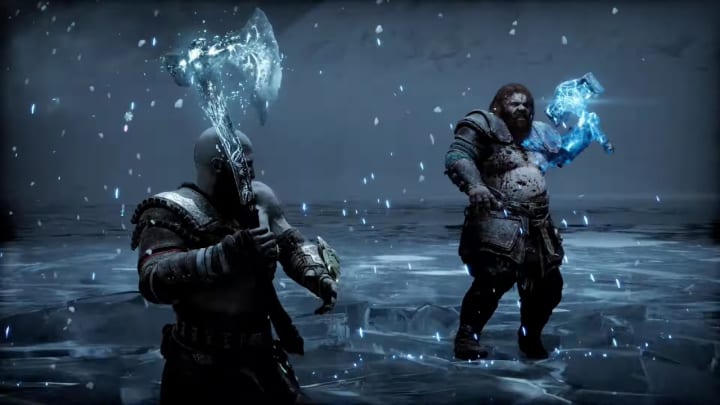 Kratos with the Leviathan axe vs Thor with the Mjolnir.
The fight continues with Thor being the apparent winner. While beating him up he yells, "Was it luck? Did my sons die to blind f###ing luck?" He then throws a fight banter and calls Kratos "dumbass" cause he didn't predict Thor's move. The very frustrated Thor goes on to say, "You think you can come here, become a daddy, get a clean slate? That ain't how it works. You are a destroyer like me".
Thor toys with Kratos like a little brat and finally slams Kratos with a fatal blow which leaves Kratos unconscious only for Thor to revive him with a CPR with his lighting fuelled Mjonier. Thor actually had the chance to end kratos once and for all and stop ragnarok but decides to resuscitate Kratos with lightning from his hammer.
In a moment of magic Kratos gains upper hand in a hand tussle and lands a power punch on Thor's right cheek leaving the Viking Thor with a broken tooth which he pulls out with disdain and respect for his competitor.
Thor is impressed and slyly echoes "there's the god of war" and quickly brushes off with his hammer off to Asgard as he quickly mutters "be seeing ya".
Read more:
Kratos vs Thor: Who Will Win In An Epic All Out Clash?