Joined

Dec 11, 2018
Messages

1,237
Trophies

0
Since August 2019, ProPublica has tracked more than 10,000 suspected fake Twitter accounts involved in a coordinated influence campaign with ties to the Chinese government. Among those are the hacked accounts of users from around the world that now post propaganda and disinformation about the coronavirus outbreak, the Hong Kong protests and other topics of state interest. They included a professor in North Carolina; a graphic artist and a mother in Massachusetts; a web designer in the U.K.; and a business analyst in Australia. (It is unclear whether the current fake account holders hacked the accounts themselves or purchased them from elsewhere.) Suspected Chinese operatives have stepped up their efforts in recent days, according to private messages shared with ProPublica, offering influential Chinese-speaking Twitter users cash for favorable posts.

An analysis by ProPublica shows that the Chinese government's covert attempts to wield influence on Twitter have persisted. Our examination of an interlocking group of accounts within our data linked the effort to OneSight (Beijing) Technology Ltd., a Beijing-based internet marketing company. OneSight, records show, held a contract to boost the Twitter following of China News Service, the country's second-largest state-owned news agency. The news service operates under the United Front Work Department, an arm of the Chinese Communist Party long responsible for influence operations in foreign countries. OneSight declined to comment and China News Service did not respond to our inquiries.

The Chinese government has also made an official push onto social media in recent years. Its diplomats are logging onto Twitter to help fight its PR battles, developing a combative, Trump-like approach to defending the regime online. On Twitter, government spokespeople have unapologetically spread disinformation about the coronavirus, even promoting the conspiracy theory that Americans brought it to Wuhan.
ProPublica's research tracked how the government-linked influence accounts that had targeted political dissidents and the Hong Kong protests turned their focus to the coronavirus outbreak. During the height of the epidemic in China, many of them became cheerleaders for the government, calling on citizens to unite in support of efforts to fight the epidemic and urging them to "dispel online rumors."

With the epidemic spreading across the world, these accounts have sought to promote the Chinese government's image abroad and shore up its support at home. One typical recent tweet in Chinese proclaimed: "We were not scared during the outbreak because our country was our rearguard. Many disease-fighting warriors were thrust to the front lines. Even more volunteers helped in seemingly trivial yet important ways."

Another post in English trumpeted aid the Chinese government recently provided to Italy. It came from the Twitter handle @RNA_Chinese, an account that appears to have been an attempt to fool the casual reader into believing it was coming from the U.S. government-funded broadcaster Radio Free Asia (@RFA_Chinese).
Others accounts we found have taken a darker turn in response to the pandemic, using it as a vehicle for disinformation and attacks on Beijing's usual political opponents.

"We will completely wipe out the belligerent rioters, just like the coronavirus!" declared a user who called herself Melinda Butler. Her post slammed Joshua Wong, a leader of the Hong Kong protests who spoke out in support of a medical workers' strike in early February. Another post by Butler called on the Hong Kong Hospital Authority to "clean out" the striking "black medical workers," alongside a graphic accusing protestors of wanting a "color revolution" in Hong Kong.

Yet another Butler tweet featured a graphic accusing foreign politicians of interfering in Chinese domestic affairs, including House Speaker Nancy Pelosi, Secretary of State Mike Pompeo, U.K. Foreign Secretary Dominic Raab and a number of other U.S. legislators. Also included in the lineup was a State Department employee scapegoated by disinformation campaigns by Chinese state media during the Hong Kong protests. "Hong Kong belongs to China," the graphic read in bold characters, "Resist meddling by foreign powers!" A logo for the People's Daily, the official newspaper of the Chinese Communist Party's Central Committee, was displayed prominently below.

Butler's posts were written to sound like a Hong Konger — in vernacular Cantonese with the traditional Chinese characters widely used in Hong Kong. But whoever was writing the posts occasionally slipped and included some of the simplified Chinese characters used in mainland China.
While some hijacked accounts deleted old posts and laundered evidence from their profile, hints of their origins sometimes remained. One such example is @HKguardian, a Hong Kong account that claims to be a Twitter handle for a citizens' league protecting the city from the protesters.

The Chinese-language account was created in 2009 but did not appear to make any posts until September 2019. We found several posts in Portugese from July 2009 when the account was first created. @HKguardian now has more than 4,000 followers and the appearance of a legitimate account. It is currently temporarily restricted by Twitter for unusual activity.

Some of the people banned by Twitter have popped up under new handles. Consider Amanda Chen, a widely followed account claiming to belong to the wife of a Hong Kong policeman. Its Twitter posts attracted attention from pro-Beijing media during the 2019 protests. The persona has tweeted under at least two other handles (@HKvigilance and @AmandaChen202) previously suspended by Twitter. Whoever she is, she now posts with the handle @Nuca12345, an account that was created a decade ago but had no activity before October 2019. @Nuca12345 has amassed more than 4,000 followers in its brief posting history. We have found no independent evidence that the real Amanda Chen exists.
Over the past few weeks, ProPublica obtained records of propositions to several prominent Chinese Twitter users from what appear to be fake accounts. One private message offered a user with more than 10,000 followers a payment to promote a video of Wuhan's battle against the coronavirus "for the public benefit."

Another account calling itself an "international cultural exchange" company offered 1,700 renminbi (around $240) per post to the Chinese Australian artist Badiucao. The political dissident has nearly 70,000 followers on Twitter. After a day of feigned negotiations with the company, he obtained and shared with ProPublica a sample of what he would be asked to post — a 15-second propaganda clip. The video sought to show that the government defeated the coronavirus and everything is back on track. "This is what Chinese propagandists call a 'positive energy wave,'" he said. He didn't get the name of the company. It ultimately declined to provide a contract, replying: "Upon client review, your posting style does not fit this promotional topic."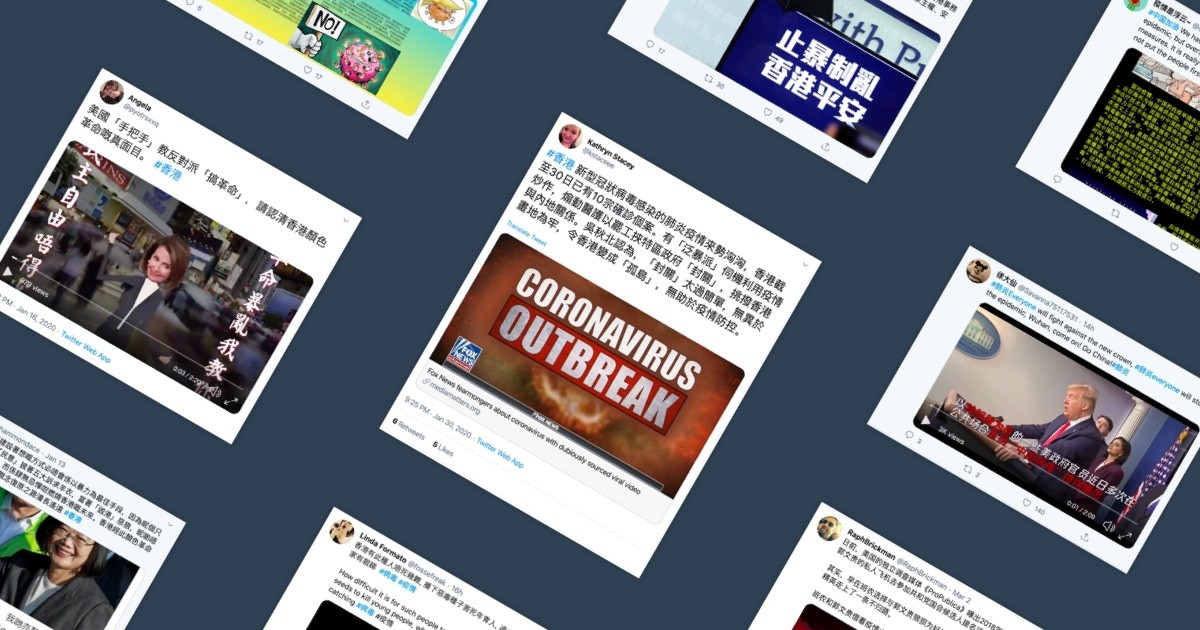 ProPublica analyzed thousands of fake and hijacked Twitter accounts to understand how covert Chinese propaganda spreads around the globe.
www.propublica.org