Joined

Dec 11, 2018
Messages

1,237
Trophies

0
March Flighting

As March has, well, marched along – we have made great progress on the goals we had set. Despite the ongoing challenges of working entirely remotely, we are about to begin flighting! The scope however has been reduced as some areas are still being worked on. We set out to flight several changes including audio fixes for Halo: Reach and some updates to Halo: Combat Evolved Anniversary alongside Halo 2 and Halo 2: Anniversary. However a few key pieces still need to be ironed out for Halo: Reach and H:CE fixes prior to getting them into your hands. To stay up-to-date on these, make sure to check out our regular MCC Development & Flighting Updates which can be found at

MCC Development & Flighting Updates | Halo Insider | Forums | Halo - Official Site

.

Additionally, based on player feedback we've also changed how we will be inviting flight participants and where communications will come from. Let's take a look at what this means for those who will be invited to the next Public (Ring 3) flight.

Click to shrink...
Halo Waypoint Flight Messaging for Halo Insider Program

Part of listening to player feedback includes improving the process for how we communicate with you. We are moving away from the previous system of sending multiple emails that contain critical information. To help make this process easier and cut down on missing emails and confusion, we're moving to more of a self-service model and shifting all communications to Halo Waypoint. This process is new and we will continue to improve prior to the next public flight. The following is the first iteration and, like all work in progress pieces, it may look slightly different when the public flight begins. Here is a look at the current framework

1. If invited, you will receive a notification here on Halo Waypoint informing you that you've been invited to a flight.

2. You will also receive a message that includes key flight details (including steam keys etc).

3. This information will also be accessible via your

Halo Insider Program profile page

. You will be linked to your flight's instructions, details (whether it's Steam, Microsoft Store, or Xbox One), and this page will also include information about the status of the flight (if it is Active or ended). If it's a Steam flight – your Steam Key will live here too.

4. The links to your flight (Halo 2 – Steam & Halo 2 – Microsoft Store) will take you to the Insider Halo Support site articles detailing all information you need to know regarding the flight.

With this being the first time for this new process, we will be sending out an information email to all invitees to reiterate these changes. We look forward to feedback and hope this is smoother for players that participate in the next flight! Now that we have walked through the new procedure, let's breakdown what content will be in this flight.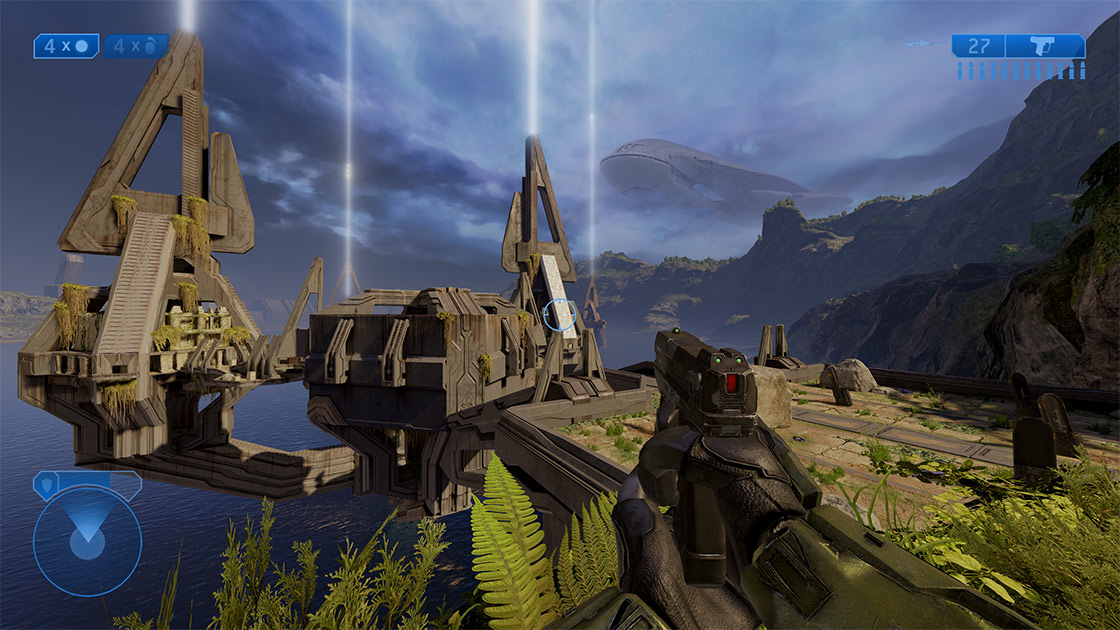 Challenge System:
This will include a series of challenges players can complete throughout the flight.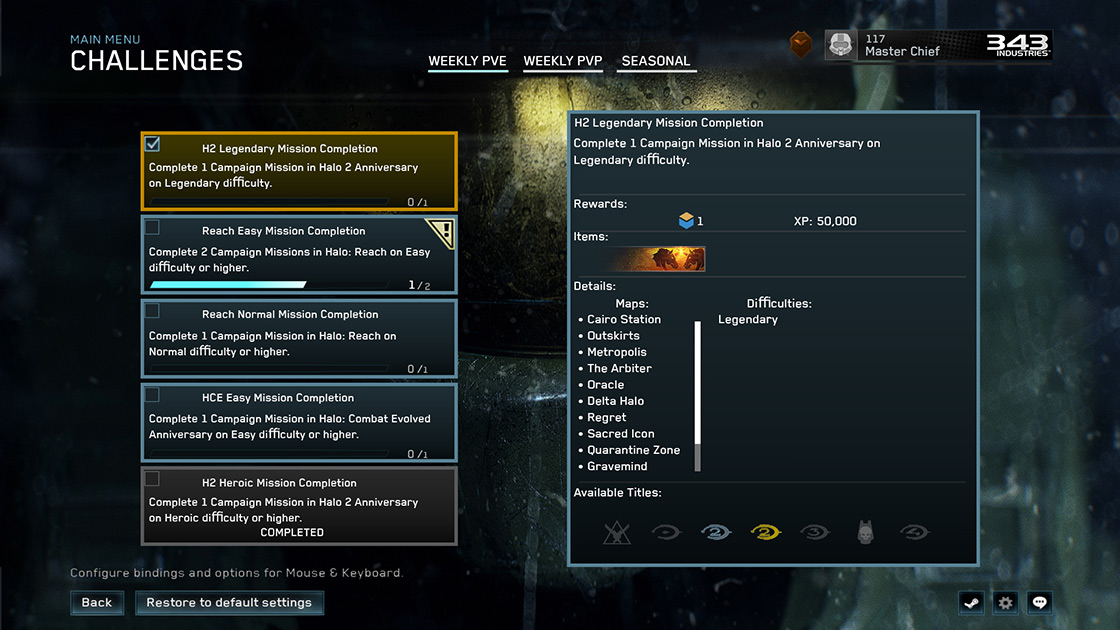 Customization:
Updated customization will be available for players for both Halo 2 and Halo 2: Anniversary.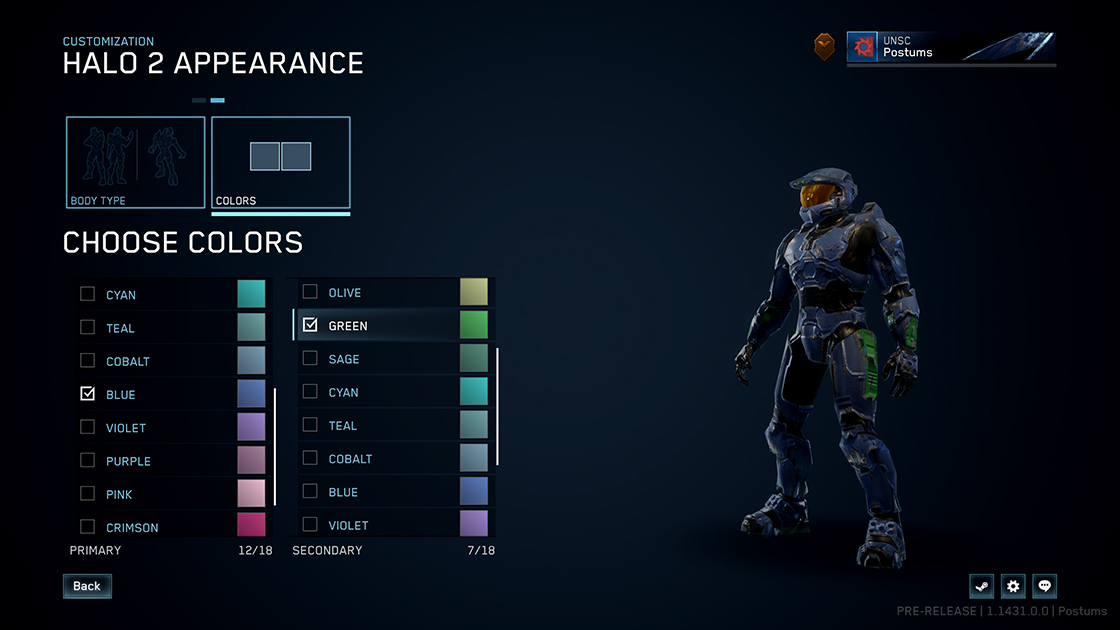 Flighting content
:
Campaign

Both Halo 2 and Halo 2: Anniversary will support the following campaign missions with options for all difficulty levels, single player and co-operative online play:

Campaign Missions: Cairo Station, Metropolis, The Oracle, Delta Halo, Quarantine Zone, and Gravemind.

Multiplayer Options

Halo 2 and Halo 2: Anniversary will support various maps and playlists for multiplayer. This will include Custom Games, Social Games, and Competitive Games. Below are the playlists and maps that will be available for each title across the various multiplayer options:

Social Games: 2v2, 4v4, and 8v8.
Competitive: H2C Team Hardcore.
Halo 2 Multiplayer: Lockout, Midship, Beaver Creek, Burial Mounds, Coagulation, Headlong, Waterworks, Containment, Sanctuary, and Turf.
Halo 2: Anniversary Multiplayer: Lockdown, Zenith, Stonetown, Bloodline, and Shrine.

Settings and Options Supported

Below is a complete breakdown of Settings and Options:

Settings – Controls: Configure Mouse & Keyboard and Configure Gamepad
Settings – Video: Field-Of-View, Vehicle Field-Of-View, Gamma, Window Mode, Aspect Ratio, Resolution Scale, V-Sync, HUD Anchoring, Unified Medal Display, Framerate Limit, and Graphics Quality.
Settings – Audio: Game Volume including Menu Music Volume, Game Music Volume, Effects Volume, Voice Chat Volume. Also, Voice Chat Channel, Push to Talk Voice Chat, and Multiplayer Game Sounds.
Settings – Gameplay: Crosshair Position, Show Invite Notifications, Enemy Player Name Color, Multiplayer Game Timer, and Credits.
Settings – Network: Network and Relays.
Settings Accessibility: Subtitles, Change Language, Convert Text-To-Speech, and Convert Speech-To-Text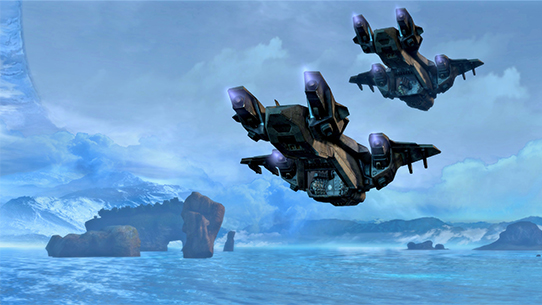 We recap our progress on The Great Journey of bringing MCC to PC, discuss upcoming Halo 2 and Halo 2: Anniversary flighting, interview some members of the design team, provide a development update on community requested features, and close with a special note. Bring snacks for this lengthy read.
www.halowaypoint.com