Joined

Dec 11, 2018
Messages

1,237
Trophies

0
Dr. Anthony Fauci has one of the toughest and most important

jobs in government

as director of the National Institute of Allergy and Infectious Diseases. The nation's top infectious disease expert, Fauci plays a major role in the coronavirus-pandemic response and is regularly seen at press conferences alongside President Donald Trump—who doesn't share Fauci's inclination and ability to give Americans the most accurate information in a time of crisis.

Fauci addressed his interesting relationship with Trump in a

Science Magazine interview

published yesterday. "I can't jump in front of the microphone and push him down," Fauci said when asked about moments when Trump makes factual mistakes at press conferences.
Cohen also asked Fauci how he has avoided getting fired by Trump. "Well, that's pretty interesting because to his [Trump's] credit, even though we disagree on some things, he listens," Fauci said. "He goes his own way. He has his own style. But on substantive issues, he does listen to what I say.
Fauci acknowledged that Trump's press conferences can give the American public "some misunderstanding" about the pandemic: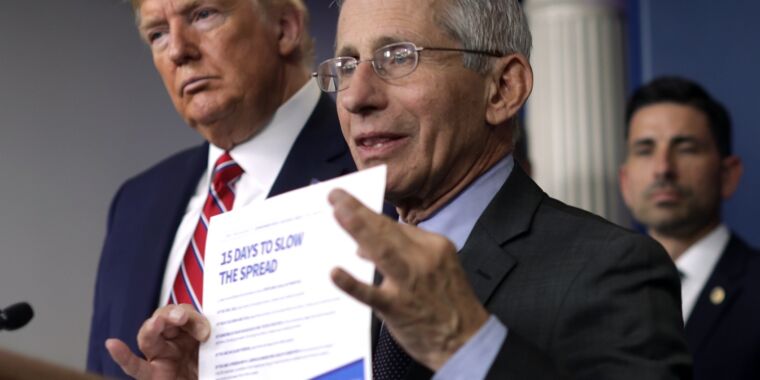 When Trump makes mistakes, Fauci tries to "get it corrected for the next time."

arstechnica.com